#GrowAP
A Campaign for Amethyst Place
Affordable Housing for Families in the Troost Corridor
Together, we can build more housing, in turn building up more women and children in our community. We are on a mission to construct 32 units and nearly double our capacity and impact. Will you help us?
We are thrilled to bring you exciting highlights from the recent groundbreaking ceremony for Amethyst Place's housing expansion project. This momentous event marked the beginning of a transformative journey to double our housing capacity and empower even more families on their path to recovery, healing, and success.
On May 19, 2023, we gathered with the families we serve, our dedicated staff, esteemed funders, founders, community partners, and supporters to commemorate this milestone.
Want to experience the celebration all over again? We've got you covered! Check out our video recap to relive this magical day!
of $15.4M Campaign Raised
Key Funding Partners
Sunderland Foundation
Hall Family Foundation
City of Kansas City, MO
Missouri Department of Mental Health
William T. Kemper Foundation
Bloch Family Foundation
Sherman Family Foundation
Dehaemers Family Charitable Trust
Pfriem Family Fund
UMB Bank
Mullinix Family Foundation
Ann & Gary Dickinson Family Charitable Fund
Ronald D. Deffenbaugh Foundation
Hallmark
Children's Mercy Hospital
Francis Family Foundation
Country Club Christian Church
Travois 
The time for expansion is now! We are thrilled to announce the #GrowAP campaign.
Over 40 families are consistently waiting for a safe home to reunify and overcome houselessness. Within these families are about 80 children, most of whom are separated from their mom until a spot at Amethyst Place opens. That wait is taking a year or longer
The time to grow is now, pandemic or otherwise. We were fortunate enough to secure land right next to our current campus thanks to the very generous support of donors. It is enough space to build 32 more units – nearly doubling our capacity. Our plan is to build 25 apartments, 7 townhomes, and greenspace for families to play. To fund this $15,400,000 project, we have launched a capital campaign that will leverage public and private sources. Construction will begin in Summer 2023.
We need supporters like you to help us bring this to fruition!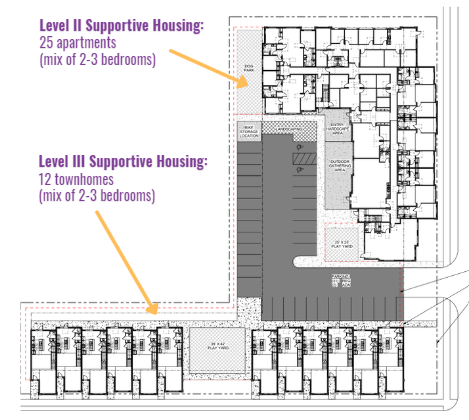 The Site Design
We will add 37 units of affordable housing, doubling our current capacity. The site will also have outdoor community space, a community room for programming, a fitness center, and offices for on-site services.
What Community Leaders Are Saying About #GrowAP
Amethyst Place is a longtime funded partner of United Way of Greater Kansas City and one of the most effective service providers for families experiencing housing insecurity. They play a vital role in ensuring the stability of families who would otherwise be at risk of homelessness. Amethyst Place leadership has stepped up to develop new affordable housing, recognizing that our community's housing affordability crisis disproportionately affects the most vulnerable families. This new housing will alleviate this challenge in long-term and meaningful ways.
Lockton is a proud supporter of the work Amethyst Place does to support the healing of families. We recognize the tremendous results they have achieved to date – and more importantly are excited for the future expansion which will provide even more support to families on their healing journeys.
I believe in the work Amethyst Place is doing; oftentimes a second chance is so very valuable to families in distress. Providing safety and the additional resources needed to get past major life hurdles couldn't be more valuable. Amethyst Place is providing a future for the most at risk families and impacting our city greatly in the process!
The Sherman Family Foundation is proud to partner with Amethyst Place. Nothing is more important for children than a stable home. Amethyst Place empowers women by providing them a home, teaching them financial literacy skills and supporting their personal/social development so that they may lead productive, independent lives and provide for their family. We are so proud of the work that Starla and all of the "sisters" do at Amethyst Place and encourage you to join us in our support of this expansion!
As the Jackson County Prosecutor, I enthusiastically support Amethyst Place. This organization provides the needed building blocks for mothers and children to build a strong foundation and nurture strong bonds just like any other family. I've seen the results from Amethyst Place in the women who utilize their services. We need more of that.
Royals Charities is proud to continue supporting our friends at Amethyst Place. Their dedication and commitment to providing a safe, welcoming and encouraging environment for mothers to raise their families has not only directly impacted the families themselves, but will have a tremendous impact on the growth of our Kansas City community moving forward. We are so grateful for all that they do!
As a female and business owner and single parent, it brings great pride to work on projects that make an impact in the community and in our children's lives. Being able to work on a project for Amethyst Place where we are affecting the lives of women and children for the better brings more meaning to the work. I hope that by seeing more women in traditionally male dominated roles, the women and children helped by Amethyst Place can envision more options for their own future.
Reconciliation Services [RS] is a long-standing partner with Amethyst Place. Starla and her team are trustworthy stewards of their critical mission to bring hope and healing to families. RS is proud to support their #GrowAP campaign and would encourage everyone in the KC community to invest in this worthy project.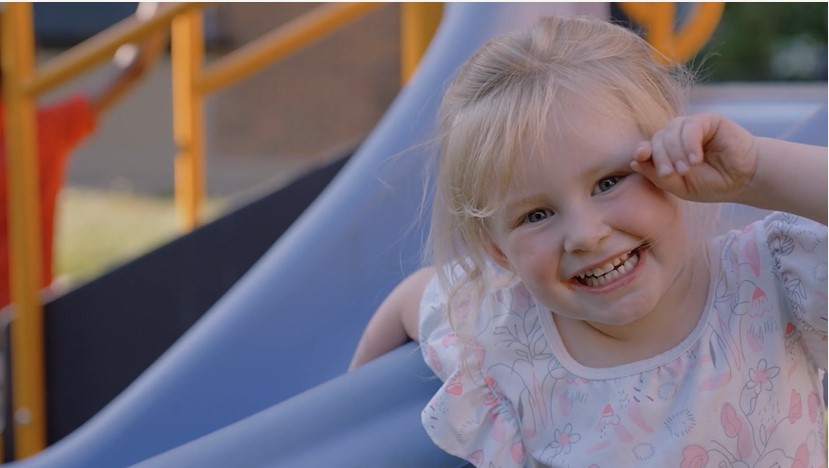 When you make a gift, you empower generations of women and children to achieve recovery, reunification, and resilience.
Help us build brighter futures today!
Contributions are used for the greatest operating and program needs.
Get inspiration in your inbox by becoming a subscriber!