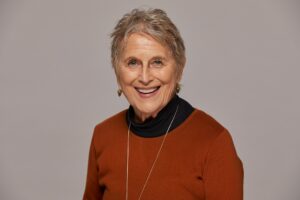 We are thrilled to announce that our co-founder, Alice Kitchen, will be inducted into the University of Missouri-Kansas City's STARR Women's Hall of Fame for her exceptional contributions to the community. Alice is a force to be reckoned with, and her outstanding achievements and leadership have been instrumental in driving social change and advocating for women's rights.
In addition to co-founding Amethyst Place, Alice has been a dedicated public servant, spending 20 years at Children's Mercy (and retiring as the Director of Social Services), where she worked tirelessly to ensure that children and families in need received the support and care they deserved. Her dedication and compassion have impacted countless lives and inspired others to follow in her footsteps.
Alice's leadership extends beyond our community. She received the Champion of Change award presented by the White House after serving as a volunteer co-chair of the Affordable Care Public Education Committee for the Metropolitan Kansas City. Through this effort, she advocated for the expansion of Medicaid and accessible and affordable healthcare for all. She has also been a leader within the League of Women Voters, working to promote civic engagement and voter education.
Moreover, Alice's work with the Women's Equality Coalition has been instrumental in advancing voting rights and gender equity. Her advocacy has helped create policies that support women's rights and empowerment, and her leadership has helped bring about significant progress toward gender equality.
As we celebrate Alice's induction into the STARR Women's Hall of Fame, we are reminded of the transformative power of one person's vision and determination. Alice's leadership and contributions to Amethyst Place, Kansas City, and beyond have inspired us all to work toward a more just and equitable world.
We are honored to have her as a founder and we look forward to continuing to work alongside her in the fight for social justice and equality.