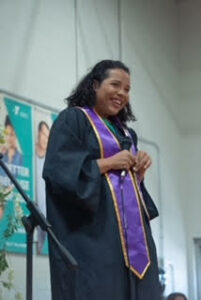 At Amethyst Place, we are constantly inspired by the incredible stories of strength and resilience that we see in the women who come through our doors. One of those incredible women is Carrine, a single mother who entered our program six years ago.
Carrine's journey to recovery was not an easy one. Her substance use began after the tragic loss of her brother to a heroin overdose. She turned to alcohol as a way of coping, which was readily available as she was a bartender at the time living in the apartment above her job. Carrine quickly found herself spiraling out of control.
"When my brother passed, I had already been drinking…I was a bartender. I wasn't the kind of alcoholic that lost jobs. I never got kicked out of clubs. I never lost friends. I've never had a DUI. And honestly, that is so much more dangerous because it makes it seem sustainable. But I stopped eating and I stopped drinking water and I gave myself pancreatitis really quickly. I got very, very sick to the point I couldn't feel my arms and my legs. I kept pushing through working two jobs and raising Micha. My organs were shutting down and I was still working."
Carrine was facing significant health problems.
"I was dropping everything at work because my alcohol-induced neuropathy had gotten so bad, I didn't even realize how much pain I was in. I couldn't accept that he was gone. I detoxed myself on the night after my brother's funeral on my couch. I almost died by myself on that couch. The next day I went to the hospital, they put me in their ICU and that began my journey. I was sober for six months. Then I had gotten a little healthier but I started drinking again. Physically and spiritually, I just couldn't handle it. So, I went back to rehab and then I started the journey that brought me to Amethyst Place."
Through our program, Carrine was able to receive the support and resources she needed to overcome her substance use disorder and build a better life for herself and her family.
She graduated from our program. But her accomplishments didn't stop there. While at Amethyst Place, she also earned her bachelor's degree in psychology from the University of Missouri-Kansas City (UMKC). "It has been my biggest dream and I have chosen a very winding road to get there. But looking back on all of the blessings I have in my life now I can't be mad at it. I have learned a lot of really hard lessons. I have one son, he's 16 and the light of my life. He's fabulous and flourishing, he's more than I could ever deserve. Also, I am celebrating five years without a drink."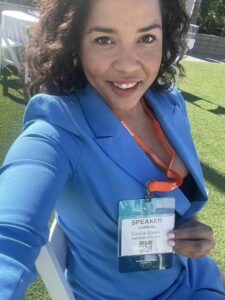 The good news continues for Carrine. Under the leadership of Dr. Hambrick at UMKC, Carrine completed a remarkable research study on telehealth for underserved populations pre-, during, and post-COVID-19. Her work was so impressive that she was invited to present her findings at the 38th Annual San Diego International Conference on Child and Family Maltreatment.
"The honor of sharing my own research and learning from others who share my passion was one of the most validating and inspiring experiences of my life. I am currently residing on cloud 9. Thank you to Amethyst Place for always supporting my dreams."
Today, Carrine is living independently in the community, a testament to her strength and determination. Her accomplishments are a source of pride for all of us at Amethyst Place, and we are honored to have been a part of her journey.
Carrine's story is a reminder that even in the face of seemingly insurmountable challenges, recovery is possible. We celebrate Carrine's achievements and look forward to continuing to support families like hers along their journey.