"My name is Andrea and I am a resident at Amethyst Place. Had it not been for this place I don't know where my kids and I would be. I was introduced to substance use at age 14. However, the poor decisions I've made in my past doesn't mean I can't be a productive member of society today. Amethyst Place has given me that opportunity and shown me that I can be that person. 
S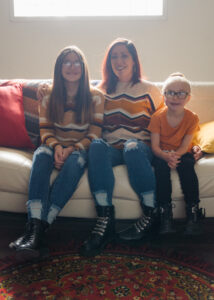 ince coming to Amethyst Place a year ago,  I've graduated from family drug court and reunited with my kids. I'm working on earning my GED and have passed four of the five tests required. I'm self-sufficient and completely support my own family. I work part-time and look forward to attending college in the near future.
After I finish college, my desire is to be a substance use counselor and support other women that share my background. 
More women and family will have the opportunity to experience what I'm able to today through Amethyst Place's expansion. 
We need more long-term housing programs for women and children. Amethyst Place is a place where you can experience stability. My kids have never experienced stability before, but now they have their own rooms, their own home, and don't have to worry about having to leave abruptly. 
Since being here, both of my kids have excelled in school earning As and Bs and making strides in their education.
My family is mended and we can start dreaming more about our future now that we have a place to call home."