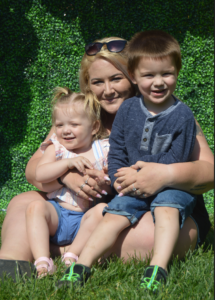 "I waited roughly a year. I was living at a trap house while pregnant with Hazel. It was one of the hardest things I have had to do. I was surrounded by people using – people constantly turning on lights and waking me up. I remember crying one night because I was so tired and I had nowhere to sleep. It was a struggle. 
Hazel was in my stomach and Jaxon was in foster care. It was really hard to get to my visits. I struggled a lot. 
I was so worried about not getting in. I had friends in the program already and I knew what it offered. Safety and stability. I was determined to get into Amethyst and I fought for it so much. Staying clean for 4 months in the trap house was hard but, in the end, totally worth it. 
It had been so long that I was starting to lose hope. Suffering in Silence for so long keeps us sick. And being around my drug every day and saying no took a toll on me mentally. I got to the point that I was asking my case worker every day and finally, we got the call to interview on November 5th, 2018. I moved in on November 6th, 2018, and had Hazel on December 11th, 2018. I have been at Amethyst Place since then. This is my home. I'm grateful to be here."
Since moving in, Amanda started college, was awarded the Bloch Scholarship, and reunified with her daughter, Tyler. She is a member of Our Voice Residents' Council advocating for other mothers in recovery and providing input to help improve our program. In 2021, Amanda shared her full backstory to inspire others that recovery is possible. You can read "A Round of Applause for Amanda" here.